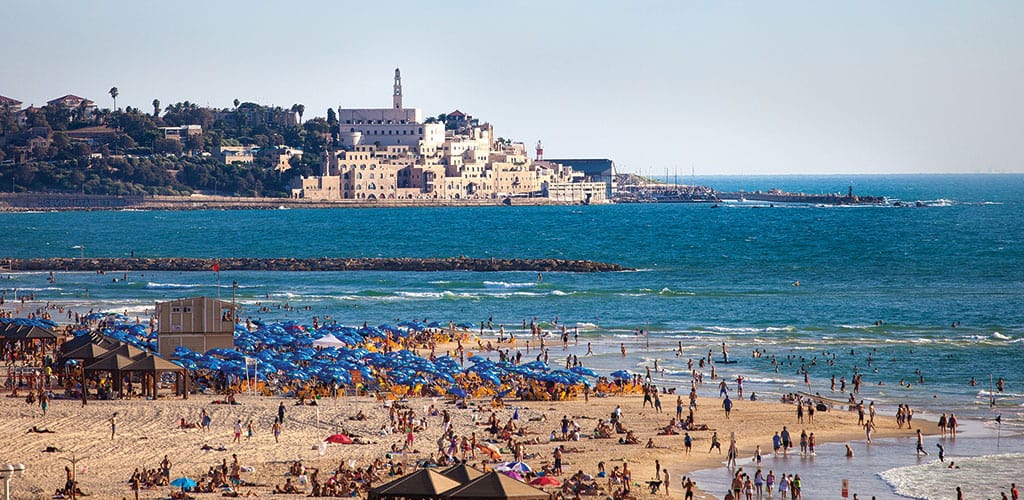 Jaffa has emerged from the shadows of the White City of Tel Aviv and come into its own. From real estate to restaurants, this ancient port is generating a buzz that rivals the young upstart that arose to its north only a century ago. Jaffa, however, is much more than a trendy place. It is a leading actor in the drama of the Land of Israel: an inseparable part of its past and an integral part of its future.
Tel Aviv was not – as Israeli songwriter and composer Naomi Shemer famously put it – built from "the foam of a wave and a cloud." Nor did the first Hebrew city miraculously appear on the white dunes of the Land of Israel's sun-soaked shores. Tel Aviv was envisioned, built, and developed as an expansion of the ancient city of Jaffa. It actually was one of many new neighborhoods constructed outside the walls of Jaffa during the second half of the nineteenth century.
It was only after the British Mandate of Palestine got on its feet, in the 1920s, that Tel Aviv officially separated from Jaffa and began developing rapidly as an independent municipal entity. Jewish Tel Aviv soon became the nemesis of Arab Jaffa – each was the intellectual center of an emerging national identity.
In May 1948, the struggle climaxed; Tel Aviv triumphed and Jaffa was abandoned. Within two weeks, some 70,000 of Jaffa's Arab residents fled to Gaza and Beirut, joining the 30,000 refugees who had left during the previous six months of unrest. The approximately 3,000 Arabs remaining in Jaffa surrendered to Jewish forces two days before David Ben-Gurion convened the historic ceremony in Tel Aviv to declare the establishment of the Jewish state.
In this new reality, Tel Aviv flourished while Jaffa floundered. Bulldozers knocked down the abandoned, war-scarred buildings of the city that had become a ghost town almost overnight; entire neighborhoods simply disappeared. It was only thanks to a group of artists that the Old City of Jaffa was saved from total destruction.
As Jewish immigrants poured into Israel and the government sought creative solutions to the acute shortage in housing, newcomers were settled in abandoned homes in Jaffa, while officials drew up plans to raze the old buildings and replace them with large, quickly built housing complexes.
In the 1960s and early 1970s, the city planners of Tel Aviv – which had been reunited with Jaffa in 1950 and officially changed its name to Tel Aviv-Jaffa – drafted plans to turn Jaffa into what they saw as a modern city with orderly rows of high-rise apartment buildings crisscrossed by a network of highways connecting neighboring Holon and Bat Yam to Tel Aviv.
In order to implement the redevelopment project, Jaffa's new population – the Jewish immigrants who had settled there in the state's early years and the Arabs who had remained in Jaffa – had to be evacuated. The government housing company Amidar was appointed to oversee the evacuation process, which included compensating the residents and removing the roof of each building after its residents left in order to prevent squatters from moving in. This exposed the inner walls to the elements and buildings that had stood for over a century began to crumble.
In 1974, the newly elected mayor of Tel Aviv-Jaffa, Shlomo Lahat, appointed a team of surveyors to draw up a master plan for Jaffa. The team included architects like Sergio Lerman, who had served as the Tel Aviv-Jaffa municipal architect for many years. Charmed by the beauty of Jaffa, Lerman and his colleagues rallied together to persuade Lahat to preserve what remained of the ancient city. After the tour that they gave him of some of Jaffa's older neighborhoods, Lahat changed the city's policy regarding Jaffa from demolition to conservation.
***
Jaffa is not only an ancient city with gorgeous architecture. It also has historically been the seat of a vibrant urban society replete with culture, heritage, and fascinating figures. While some books and many articles have been written about Jaffa in Hebrew, Arabic, and even English, much remains unknown and inscrutable. Unlike Tel Aviv, where the homes of legendary mayor Meir Dizengoff, national poet Hayyim Nahman Bialik, and artist Nahum Gutman have been turned into museums that preserve their memory, little information is available about Negib Bustros, after whom Jaffa's main business street was named, or Salim Kassar, who was one of the richest people in Palestine. Walking down Jerusalem Boulevard, originally known as Jamal Pasha Boulevard, raises the question of who paved this grand boulevard, who constructed the once-ornate buildings along it, and who patronized the coffee shops and movie theaters that used to line its pavements.
Today, as the resurgence in Jaffa continues with rising real-estate prices and new coffee shops, restaurants, galleries, and other businesses opening every month, more people are asking these questions than ever before. Gentrification is a double-edged sword, sparking interest in all aspects of Jaffa's history and culture, while raising the cost of living in the city to the point that the very people who are continuing that heritage often find themselves being priced out of it.
This guide to Jaffa is based on my work as chief advisor for the tourism development program, planned by the Governance of Jaffa, a branch of the Tel Aviv-Jaffa municipality, over a decade ago, and the knowledge that the ERETZ staff has gained over the years while writing about Jaffa and interviewing its inhabitants. Some of our editorial staff have lived or continue to live in Jaffa. I also relied on a handful of books and research papers about Jaffa written in Hebrew and English and memoirs that several Arab residents published in recent years. They include the impressive research that architect Shmuel Groag conducted and The Encyclopedia of Beautiful Jaffa in Arabic, bringing to light many Arabic sources on the city; and Mark LeVine's Overthrowing Geography: Jaffa, Tel Aviv, and the Struggle for Palestine, which sums up the Ottoman documents about the city.
Jaffa's heritage is an important part of the Land of Israel's history. Contrary to popular opinion, this ancient Mediterranean port was never the "dark city" skulking alongside the White City of Tel Aviv. Jaffa, whose name means beautiful, was lovingly called, "the bride of the Mediterranean," by ancient travelers who noted the picturesque yellow and pink houses clustered on a hill overlooking a blue sea and white dunes and surrounded by green orchards.