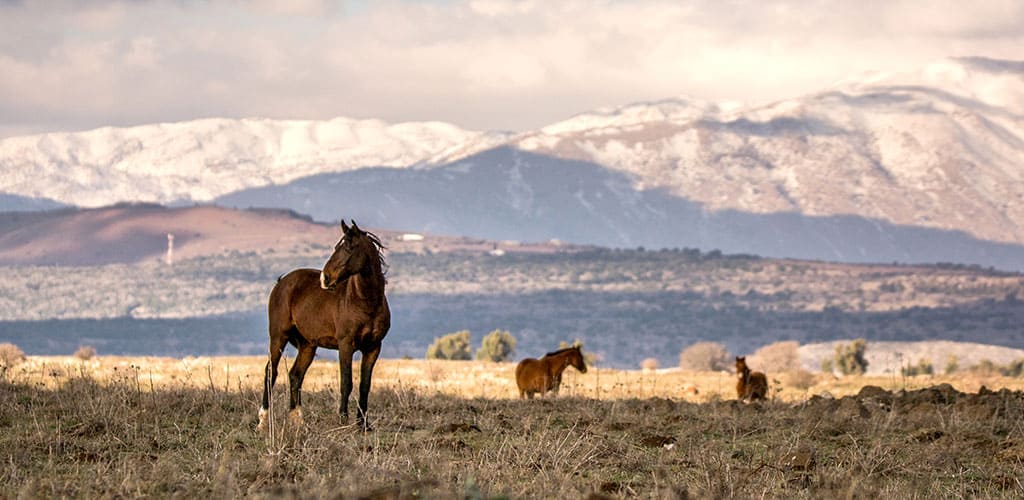 This guide is the companion to the special issue of ERETZ Magazine, The Golan, and presents a selection of sites, attractions, and communities throughout one of Israel's largest and most beautiful expanses of wide, green, open spaces. Much of the land on the Golan is a nature reserve and much of the rest is open, undeveloped space or agricultural fields and orchards. As a result, the Golan is the largest green lung in Israel.
Efforts have been underway since 1967 to unearth the Golan's enigmatic history; thus far, over 30 synagogues from the time of the Mishnah and Talmud have been identified along with dozens of archaeological sites from the Roman and Byzantine periods and even prehistoric times. In addition, the Golan boasts a number of Crusader fortresses, Mameluke khans, and even interesting remains from modern times, dating from the French Mandate of Syria to the state of Syria.
One of the Golan's most noteworthy features is that from the first day of settlement there in the wake of the Six Day War in June 1967, the pioneers of Kibbutz Golan (which became Kibbutz Merom Golan) refused to become enmeshed in the traditional political divisions of the various kibbutz and moshav movements. They set a precedent which the people of the Golan continue to uphold to this day.
"On the Golan," the members of the Golan's first kibbutz told David Ben-Gurion when he visited them in 1967, "there are not different political settlement movements. There is no division between religious and secular, kibbutz and moshav, or town and agricultural village. The Golan is a place where a new kind of civil society will be created – a society that is at peace with the different political divisions within it, the different people making up that society, and allows room for all."
Over the years, the Golan has indeed demonstrated that it is defining making room for all as the new Zionist vision and agenda.
In an effort to provide you with a light, portable, convenient guide to use while traveling in the Golan, as compared to a thick, heavy tome, this is not a comprehensive list of all that exists in the Golan, but a selection of the sites we see as the most interesting. These sites include kibbutzim and other communities, historic and archaeological sites, nature attractions, and additional destinations that have a unique story.
The guide is organized into three main sections: north, central, and southern Golan. The numbers of the sites in the guide matches their numbers on the attached map for that section. These sections are followed by a special section on the Golan Trail and information about places to eat and sleep on the Golan.
I hope that this guide will encourage you to go out and explore the Golan – walk its trails and see its spectacular landscapes with your own eyes – its stunning sternbergias and irises in bloom and its flowing rivers and waterfalls.
Enjoy,
Yadin Roman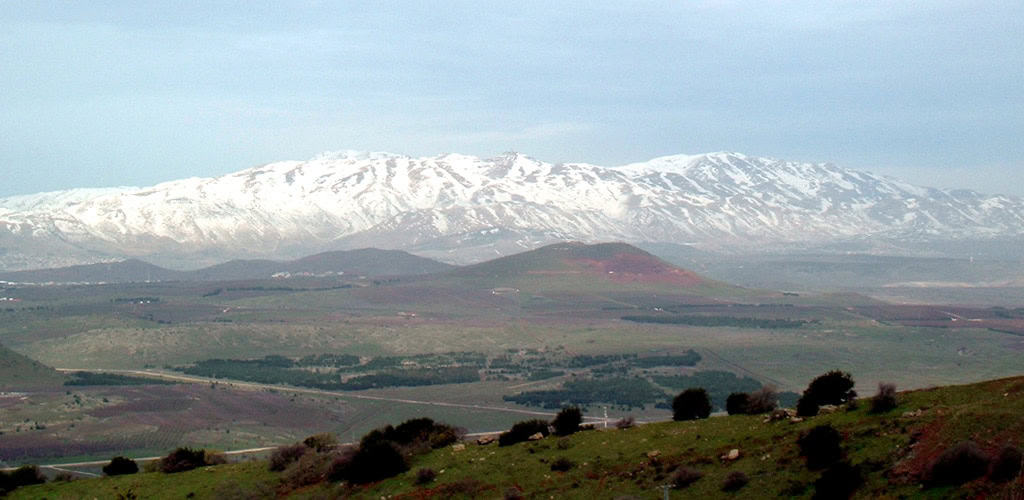 Mount Hermon
One Mountain – A Wealth of Experiences
Hours: 8 a.m.-4 p.m.
Vehicles can enter until 3 p.m.
Entry fee in winter.
Tel.: 1-599-550-560
www.skihermon.co.il
As the only ski resort in Israel, the Hermon is a major tourism site that attracts hundreds of thousands of visitors to northern Israel annually. Suitable for the whole family, the site extends over 600 acres and is located 1,600-2,040 meters above sea level.
The ski lift, which operates year round, carries visitors 1,250 meters to the site's upper level in about 15 minutes. The ski lift is suitable for passengers of all ages and each seat can accommodate up to two passengers.
In winter, visitors can ski, snowboard, take skiing lessons, or simply play in the snow. The site's upper level offers sledding and the lower level offers mountain sledding year round along a one-kilometer track on which the sled can reach a speed of up to 45 km/h (the rider controls the sled's speed with a hand brake). The track ascends, descends, twists, and turns through the Hermon's amazing, wild landscapes, offering thrilling views and an exciting experience. Each sled can accommodate up to two riders. Riders must be at least three years old and 1.45 meters tall; children must be accompanied by an adult.
In summer, the site offers a combination of nature, scenic landscapes, family entertainment, and tours that introduce visitors to the heritage, history, and wealth of knowledge about northern Israel, while they enjoy the cool, pleasant weather. Summer highlights include driving a three-wheel mountain cart – the only one of its kind in Israel – along specially designed tracks (for visitors aged 15 and up). This pleasant yet challenging ride that plunges about 850 meters downhill will appeal to thrill seekers. Young visitors (age five and up) can explore the Hermon's slopes by summer tubing: sliding down the mountain on inflatable tubes. Hikers can enjoy a wide variety of trails at different levels of difficulty. Free tours are offered in cooperation with the Society for the Protection of Nature in Israel. The tours tell of the battle during the Yom Kippur War over the Hermon outpost, a symbolic site which is the source of the mountain's nickname, "the eyes of the state."
Groups of devout Christians from around the world often visit the mountaintop to pray.
The route up to the site leads past the charming wooden houses of Moshav Neve Ativ, welcoming visitors into the Alpine atmosphere with fresh, crisp, clean air and a dazzling 360-degree view of one of the most beautiful places in Israel.